Globally, grocery products and appetizers were the fifth most innovative food category in 2018, according to Protéines XTC's Global Innovation Report. Indeed, 5.7% of food innovations are new products in the grocery and appetizer section.
The trend is even stronger in the Americas: in the North, the market ranks third among the most innovative categories with 6.5% of the region's food innovations; in the South, it even ranks second, behind non-alcoholic drinks, with 9.8% of global innovations.
On the other hand, in France, innovations in the savoury section have hardly convinced consumers. According to an IRI Worldwide study published in March 2019, it is in this sector that sales of new consumer products dropped the most in 2018.
Gluten alternatives
While pasta is widely appreciated throughout the world, with world production estimated at 14.3 million tonnes in 2016 according to the International Pasta Organization (IPO), it is increasingly available in lighter, healthier and often gluten-free versions. This is particularly the case in the main pasta-consuming countries such as Italy (23.5 kg per person per year) and France (8 kg per person per year).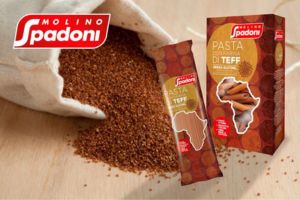 Spadoni has released a gluten-free pasta with teff flour, a high-fibre cereal
For example, the Italian Molino Spadoni SpA has launched gluten-free pasta made with flour produced from teff, an ancient African cereal rich in fibre. By no longer using traditional wheat to make its pasta, Spadoni is highlighting a cereal with exotic notes and multiple benefits. Teff is also the star ingredient in the fusilli proposed by the manufacturer Lovegrass Ethiopia, containing no additives or preservatives.
Rice, vegetables and legumes are also alternatives to wheat in pasta. Farmo SpA, for example, markets organic pasta made from rice flour and kale or cauliflower powder, which is gluten-free and low in sodium.
And it is not only in the pasta section that gluten-free is attractive. SIAL Innovation, for example, selected quinoa and legume cakes from
Quinola Mothergrain
precisely for their organic and gluten-free ingredients.
Organic and healthy products turn up for the aperitif
L'apéritif est souvent synonyme de grignotage pas toujours très recommandé pour la santé. C'est pourquoi les professionnels du secteur veulent aborder un nouveau virage. Plusieurs d'entre eux ont en effet conscience de l'intérêt des consommateurs pour leur santé.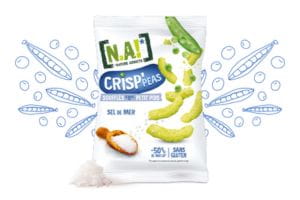 N.A! has launched pop pea snacks to be enjoyed as potato chips.
In France, the company N.A! has launched puffed pea snacks to be eaten like crisps. The difference is that these snacks are healthier because they are low in fat. They are also gluten-free and rich in vegetable proteins.
Pepsico, the world's number one crisp manufacturer with its Lays brand, also wants to make a name for itself on the organic snack and aperitif market. In October 2019, it launched its first range of organic crisps in France, a true innovation for the American giant. Two references make up this range: one is a natural organic crisp, the other is a flavoured organic crisp, with a " Provencal tomato " taste. For the moment, organic represents only 2% of the potato crisp market in the country (estimated at €568 million in 2019, according to IRI), even though France is a conducive environment for organic products in food. There is therefore huge room for growth.