According to Protéines XTC's 2019 Global Innovation Report, two of the main sweet grocery markets were among the top 10 most innovative food categories in the world in 2018. These are biscuits (in seventh place with 4.7% of all innovations) and desserts (in ninth place with 3.5% of the total).
Biscuit and dessert innovations are particularly numerous in Latin America, where these two categories rank third and fourth respectively among the most innovative food categories.
A strong trend – "and that's all"
Even if sweet groceries are synonymous with indulgence, the argument for healthier, more natural and lighter foods is gradually making its voice heard. Consumers continue to buy sweet treats, as long as their impact on health or the environment remains moderate.
Aware of these new requirements, manufacturers are removing additives, colourings and preservatives from their products. For example, the French company Nerver Dy has concocted the recipe for its colouring, preservative and palm oil-free home-made rusks from the leaves of the moringa tree, a tree with many virtues used up to now in cosmetics and, increasingly, in food. "The moringa's success in the food industry started in Southeast Asia and is gradually spreading to European countries and North America," explains Protéines XTC in its 2019 Global Innovation Report.
In 2018, Belgian company Belkorn launched biscuits without additives or added sugars, composed of 35% fruit.
Some brands are spearheading this "substance free" promise, such as Belgium's Belkorn with its Noadd products. In 2018, this company launched biscuits with no additives or added sugars, made with 35% fruit.
Even the confectionery industry is rewriting its script in terms of questionable ingredients. With its aptly named "Not Guilty" range, the producer Nature Innovation International offers organic sweets without animal gelatine, colouring or artificial flavours. They come in several flavours: cola, pomegranate, red berries, fruit and finally honey and fruit.
Health and pleasure come together
There is also a trend towards lighter products, where fat and sugar are being replaced by more dietary beneficial ingredients. In this area, quinoa is very popular. "It is increasingly used for its low calorie content in products with slimming promises, while giving these products an exotic origin," continues Protéines XTC. Evidence can be found in the low-calorie and gluten-free rice and quinoa cakes marketed by one of the heavyweights in the organic grocery retail sector: Bjorg.
Ingredients acknowledged by cosmetics for their virtues are also available in the 'sweet grocery' section offering a new range of products combining 'benefits' and 'pleasure'. This is the case of collagen, which is widely used in Japan, and which is beginning to find its way into the food industry. Several Japanese companies have recently launched jelly sweets rich in collagen, for guilt-free chewing.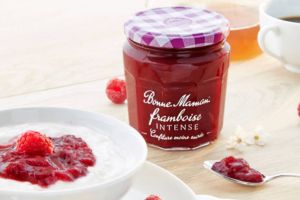 In the jam aisle, Bonne Maman is launching anew product range containing 30% less sugar than a classic jam.
Traditionally high-sugar products are also available in lighter versions. This is notably the case in the jam section with, at Bonne Maman, a new "intense two fruit" range containing 30% less sugar than a regular jam. A less sweetened jam, therefore, but one which does not compromise on taste and pleasure for the consumer.
The same applies to the fruit puree market, where manufacturers are competing ingeniously to offer products that are not as sweet but just as tasty. The French company Unidiet has even launched a natural and no-added-sugar fruit puree (apricots, apples and bananas) with chia seeds, wheat germ and 100% lemon juice, guaranteed to contain fewer than 100 calories per portion. This new product was selected by SIAL Innovation 2018 for its healthy and original recipe.
More generally, organic products have made a major breakthrough in the sweet grocery sector, particularly in the biscuit niche. It is now one of the main innovations and growth levers, particularly in France where organic biscuit sales have grown steadily (+12.9% in sales by volume in 2018) to reach €2.23 billion, according to IRI.