Professionals in the sector are already aware of this. The butcher's meat, cured meat and poultry segment is one of the most innovative in the world: in 2018, it accounted for 5.8% of all worldwide food innovations, according to Protein XTC's Global Innovation Report. This makes it the sixth most innovative category after soft drinks, savoury frozen products, prepared food, dairy and aperitif products.
And the trend is growing. In 2017, innovations in the meat sector accounted for only 4.8% of all innovations. This need to innovate to cater to demand is particularly strong in Europe, where the sector is the third most innovative after the prepared food and dairy sectors.
Animal welfare and the environment
One of the major issues facing meat professionals is the carbon footprint of their products. There are several possible solutions to deal with it.
Some manufacturers opt for less polluting packaging. For example, Le Picoreur has developed new packaging that uses 70% less plastic than previously to pack its poultry cuts. The packaging is also more easily recyclable, as the cardboard part can be separated from the plastic film.
Consumers are also more demanding in terms of animal welfare. In addition to a desire for greater transparency in processing methods, a growing proportion of purchasers are turning to plant-based substitutes.
Analysts at Barclays Bank estimate that the vegan meat market will be worth $140 billion in ten years' time and will capture 10% of the global market. Manufacturers are already positioning themselves in this niche and coming out with new products, such as Beyond Meat - one of the industry leaders who invented the vegetable protein-based chicken nuggets and wings at KFC - or Impossible Food and Triballat Noyal.
Italy's Citterio Giuseppe even combines environmentally friendly packaging and vegan meat with their preservative-free vegetable and pulse-based cold cuts substitutes, spotted by SIAL Innovation 2018.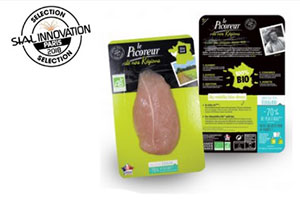 Organic and high quality meats
Organic is also a growing trend in the meat market. In France, 74% of consumers say they eat organic meat at least occasionally, according to an Ifop survey conducted in 2018. This compares to 59% in 2015, providing tangible proof of the organic boom.
In detail, the organic beef market in France amounts to €317 million, up 12.8% in one year; the organic cured meat market €132 million, up +22.2%; organic pork totals €82 million in sales (+10.8%) and sheep meat €55 million (+12.2%), according to Interbev.
Ham is turning to organic and 'nitrite-free' like at Fleury Michon, but the same is true of other meat products. The manufacturer Auvernou, for example, has launched its organic dry sausage, available in miniature natural sticks. At Maître Coq, poultry legs cooked as a confit have gone organic. These two products were selected by the judges of SIAL Innovation Paris in 2018 for their innovative character.
Meat lovers also want quality products from animals fed as naturally as possible. LoeuletPiriot therefore offers rabbit cutlets for frying, made from French-bred rabbits, raised on a 100% plant-based and GMO-free diet. On the other side of the Alps, in Italy, Salumificio Fratelli Beretta SpA markets a range of charcuterie guaranteed antibiotic-free from birth and from a fully-controlled supply chain.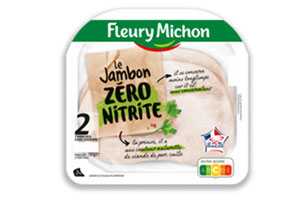 Product renewal
In addition to these many challenges, meat professionals must also innovate to satisfy and surprise consumers' taste buds. The renewal of this sector therefore also largely involves the launch of products with more exotic and ever more sophisticated flavours.
This is the case, for example, of the Spanish Florencio Sanchez e Hijos and Belloterra, both of whom have launched a Bellota sausage with truffles. At Embutidos Ortiz, the chorizo is combined with seaweed to create a new 'surf and turf' flavour commended by the 2018 SIAL Paris Innovation Observatory.
The refinement can even stretch to packaging, as illustrated by the German firm JAN with its vacuum-prepared veal cheeks presented separately in an elegant box. Labeyrie goes even further by offering a whole duck foie gras and the full kit to prepare it 'au torchon' – wrapped in a cloth.