Unsurprisingly, the various categories in groceries are among the most innovative in the food world. According to Protéines XTC's 2019 Global Innovation Report, three grocery subsectors can be found in the top 10 most innovative categories. The first of these are 'aperitif groceries' which lie in fifth place. They are followed by biscuits in seventh position and by condiments and sauces in tenth. These categories account for 5.7%, 4.7% and 3.4% respectively of the world's food innovations in 2018.
Organic and local
According to the findings of a Yougov survey conducted on behalf of Huffpost for the 2020 Paris Agricultural Show, 83% of French consumers say they are prepared to make an effort to reduce the environmental impact of their food, which accounts for 26% of the world's greenhouse gas emissions. To do so, consumers look to two criteria: organic and local. Still according to this poll, 57% of respondents additionally said they were prepared to eat less meat to be able to eat more organic products, thus balancing their food budget. These demands are being increasingly listened to by manufacturers in all sectors, in including that of the grocery sector and its subsectors: savoury groceries, sweet groceries and delicatessen.
Lesieur recently announced it was making new commitments between now and 2023 for its oils, including recyclable packaging and a more organic range, focusing on French origin and supporting national supply chains. The leading brand has already started down this road in 2020 with the launch of four new organic products: a virgin oil produced in France, a sunflower and olive oil, a mayonnaise in a tube and a solid source.
For its jams and creams, the Italian firm Biosolidale is also turning to organic whilst giving centre stage to locally produced fruit and vegetables. Meanwhile, Tropical Mountains offers an organic and fair trade coffee in all-biodegradable capsules, straight from producers. There are plenty of other examples.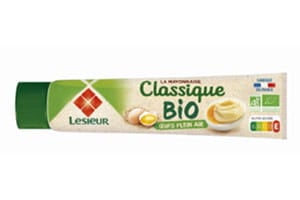 More healthy, natural products
Whether in sweet or savoury sections or in delicatessen, there is also a trend in promoting nutritional properties and healthier ingredients than previously. At the Italian firm 'More Than Rice', the winner of SIAL Innovation 2018 in the Savoury Grocery category, legumes take the form of grains of rice, familiar to all consumers, and give them protein, resulting in a nutrient intake which is, as the brand name states, "more than rice."
Innovation is also evident in traditional products, with the addition of new, healthier ingredients or the elimination of others connected with certain illnesses. The food giant Heinz has thus reduced the sugar and salt content of its soups and ketchups. The same has happened at Andros with its fruit purees and at Bonne Maman with its jams, which are now lower in sugar and higher in fruit content.
Another example is in the pasta department, where legumes are emerging as a healthy meat alternative thanks to their protein content. At Valfleuri, the traditional durum wheat used for making pasta is combined with legumes such as red lentils, split peas and chickpeas to create a range of pasta with essential and complimentary amino acids. Spices (cumin, paprika, dehydrated beetroot, coriander, dehydrated onion, etc) jazz up the taste of these products christened 'Tendr'épices'.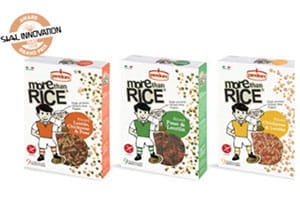 Upmarket shift and sophistication
To stand out from the competition, grocery players are also using another innovation lever: product sophistication. This is done in several ways. Manufacturers can, for example, bring a modern edge to a major and high-quality ingredient such as black garlic. This long-forgotten garlic gets its colour from a two- to three-week maturing process which gives it a unique taste, both mild and sweet. The French firm Potdevin-Caron thus launched its 'Black Garlic from the North,' grown in the north of France and of natural origin, to be served with both savoury and sweet dishes and from aperitif to desert. Meanwhile, Halen Môn has brought out a black garlic ketchup, sold in a glass bottle.
Another avenue examined by manufacturers is to enhance their recipes with noble ingredients such as truffles. You can find truffles in the mayonnaise by the Italian firm Tartuflanghe SRL and in desserts or squash and ginger soup marketed by its compatriot Selektia Tartufi, or quite simply in powdered form to add a twist to certain dishes, like at GeofoodsItalian Truffles.
The shift upmarket and sophistication of products is also a matter of ingredient expertise, with examples such as professional credentials. For example, Casino Délices works with the famous Parisian chocolate maker Patrice Chapon - renowned for roasting his own cocoa - for its coffee mousse on a praline base layer. Manufacturers will also team up with leading brands for special occasions. Just like a capsule collection in the fashion industry, the Italian firm Pastificio Di Martino Gaetano & F.LLI got together with Dolce and Gabbana to create a limited edition specially designed tin containing 3 kg of bronze-cut pasta. This impactful cobranding brought two sectors together - fashion and food - around an innovative product.