Chicken tops the list of the most popular poultry products and is one of the few meat products whose consumption continues to grow, in a context that would actually indicate a reduction in the amount of meat on the plate. To keep the market ticking over, professionals are continuing to innovate.
Everyday convenience
One of the most noticeable areas of innovation in the poultry industry is that of poultry cuts. Pre-cut chicken, turkey or duck breasts are easier to cook and enjoy. Ideal for consumers who are constantly looking to save time without compromising on taste.
The Waitrose brand has launched several chicken wraps products to be enjoyed anytime and anywhere.
Thighs and gizzards are also choice items. Already prepared, they appeal to poultry enthusiasts short on time who are looking for tasty products that are ready in a few minutes. To satisfy them, Maître Coq has launched its organic poultry thigh confit cooked in mild spices or its farmhouse chicken gizzards, cooked in confit and to be served in a salad for example.
Chicken can also be eaten on the go, in the form of a sandwich for example at the British supermarket chain Waitrose. The brand has launched several versions of chicken-based wraps that can be eaten anywhere and at any time: chicken Caesar salad wrap, southern fried chicken wrap, sweet chili chicken wrap, grilled chicken and chorizo omelette wrap, etc.
Egg products
Eggs are also consumed in great quantity around the world. In France alone, 98% of people say they consume them, and 84% do so regularly: at least once a week, according to a CSA survey conducted in 2019. And in Europe, consumption amounted to approximately 116 billion eggs in 2018, an increase of 2.2% compared to 2017.
Eggs are eaten soft-boiled, hard-boiled, fried, in omelettes or incorporated into other more sophisticated recipes, both in cakes and pastries and in everyday cooking. This is why several brands are now developing egg products, i.e. ready-to-use eggs that are already shelled. They come in the form of eggs that are simply broken, or already cooked and processed.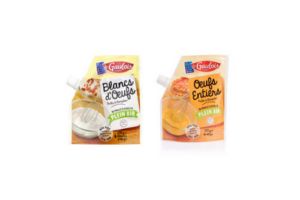 Le Gaulois markets ready-to-use liquid eggs. A pack of 230 grams corresponds to 4 eggs.
According to the French National Egg Council (CNPO), this sector is even quite dynamic - particularly among professionals in the food industry and the out-of-home catering trade - "due to convenience, hygiene and cost considerations". So much so that in 2018, egg products accounted for 39% of total egg consumption in a market like France, according to estimates by the French poultry farming institute (ITAVI).
The French brand Le Gaulois, for example, markets ready-to-use liquid eggs laid by free-range hens. A 230-gram packet is the equivalent of four eggs. It can easily be used to prepare quiches, omelettes or desserts, as the brand advises on the packaging. A pouring cap has even been added to further improve the convenience of the product for the consumer.
Animal welfare and quality
Squaring the equation of animal welfare, ecology and meat quality is often quite a challenge, and yet Le Picoreur has pulled it off with its organic farmhouse chicken cuts packed in an eco-friendly pack. The chickens are French and raised free range. As for the packaging, it contains 70% less plastic than the brand's previous pack and its cardboard is sourced from sustainably managed forests.
The same can be observed at the French Grain de Nature which markets cuts of organic free range poultry in an eco-designed pack. Here again, the poultry is French and raised on GM-free feed.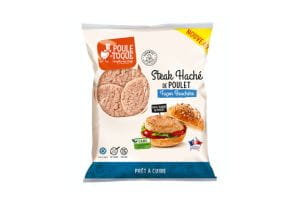 Chicken butcher's steak from Poule et Toque, launched on the market at the end of October 2019.
Even for more processed products, consumers expect more quality from manufacturers. With this in mind, Bodin Bio has launched its 'Bio Nature de France" schnitzel made from 100% French fillet, organically raised.
Poule et Toque has launched a brand new product to expand its range of French poultry from farms that respect animal welfare: a 'butcher-style' chicken steak. Launched on the market at the end of October 2019, this traditionally-minced all-muscle steak is made from chicken thighs, without skin or added fat.
The game segment facing an array of challenges
Game meat, generally spurned by consumers all year round – except for a slight revival during the festive season - in favour of domesticated meats such as pork, poultry, beef or veal, is struggling to innovate.
On the shelves, it is often presented in the same forms. But new products are trying to bring a modern touch to the sector: with examples such as venison sausages or wild boar cutlets for grilling.