The new products in these segments alone account for 5.6% of all food innovations. They even arrive in third place in Europe with a total of 6.6%, two places higher than in 2017. This is proof that in this category, the sector's professionals are not short of inspiration.
Montée en gamme et nouveaux goûts
While the cured and salted meat market range is already very extensive, with a wide variety of products ranging from dried and cooked ham to salami and from black pudding to pâté and terrine, an array of new products are launched every year. These bring further dynamism to the market by contributing greater sensory variety for more enjoyment by the consumer.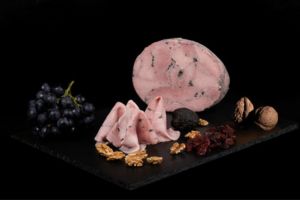 The superior and truffled cooked ham of the French SalaisonsBentz.
This is a case for example with the Spanish firm Embutidos Ortiz and its chorizo with algae and chorizo with quinoa. Manufactured according to the traditional recipe that has been the secret behind the success of Ortiz sausages since 1915, these chorizos are made with novel ingredients, developing an original product range in the cured meat segment. The chorizo with algae was selected by the SIAL Innovation Observatory for its innovative recipe creating a 'surf and turf' offering in the cured meat market.
Consumers wish to be surprised by new tastes but also by high-quality and more sophisticated products. Dried sausages are thus shifting upmarket with the Spanish firm Belloterra which has added black truffle, while the French firm Salaisons Bentz has also included truffles in its superior cooked ham. The same applies to the terrines sold by the Belgian firm Belberry, made with fruit, red onions and raspberries, sauternes wine and wholegrain mustard.
Good products, but healthier products
While cured meat continues to be popular thanks to its flavour, it can also be decried for its effects on health. With high salt and fat content or with too many additives and preservatives, cured meat products must reinvent themselves today to fulfil new consumer demands.
Indeed, these consumers are not only in search of a chance to enjoy tasty cured meat products, but also healthier products that care for the environment and for animal welfare.
"Customers want to find products with less fat, while colourings such as cochineal are clearly out of favour," warned the cured meat innovation unit of the European centre for culinary professions (Ceproc).
This is a new dawn for industry professionals, who continue to innovate to meet this growing demand. The first segment to benefit from this is thus organic cured meat, where sales have grown exponentially in France: +18.2% in 2018 for total sales of €156 million, according to Interbev.
In this sector, Fleury Michon launched an organic ham in February 2019 with no nitrite salt or preservatives, meaning that instead of being pink in colour, it is grey, like traditionally cooked pork. The product has a shorter use-by date and is 10 to 15% more expensive, but it fulfils the criteria of many consumers shopping for natural goods.
The breakthrough of meat alternatives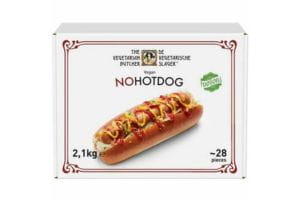 The "vegan hotdog" sold by the dutchman
The Vegetarian Butcher, launched October 2018.
For lovers of cured meat who wish to branch out into even healthier products, a brand-new range of vegan products has now become available. These include the 'vegan hot dog' sold by the Dutch firm The Vegetarian Butcher, which was launched in October 2018 and unveiled at SIAL Paris in the same year.
Meanwhile, the Brittany firm Kokiriki has launched a comprehensive range of entirely meat free charcuterie. In its product catalogue can be found ham, salami, rillettes and liver pâté which all look like meat-based products but are made with 100% plant-based ingredients such as sunflower, acacia, chicory and bamboo.