Consumers in search of natural and eco-responsible products
The bulwark of the hot drinks sector, coffee makes up 60% of the hot drinks market.
The bulwark of the hot drinks sector, coffee makes up 60% of the hot drinks market. To meet the environmental expectations of consumers, manufacturers have firstly redesigned their containers, such as for example Neronobile SRL, which has launched 'Caffe' bio', an organically grown coffee presented in compostable and Nespresso compatible pods.
The container revolution is also happening in tea. Alterfood has created a glass bottle of fully-organic iced tea called Tensai tea. Beyond the advantage of its natural ingredients, the glass bottle is today the most recycled and recyclable form of packaging: an aspect that eco-aware consumers are sure not to miss out on.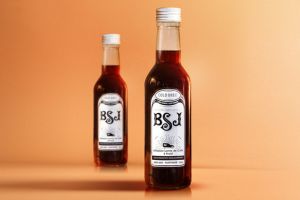 La Brûlerie Saint-Jacques has released the Cold Brew, a coffee that has been cold-brewed for a dozen hours.
Another innovation in form: propose these drinks in cold format. Several brands have established themselves in this niche, including Brûlerie Saint-Jacques which has brought out the Cold Brew, with coffee infusing in cold water for 12 hours.
Another innovative idea comes from Pfanner which has also created a cold-brewed coffee but mixed with fruit juice. Its 'Coffee & Lemon' and 'Coffee & Orange' drinks featured among the products selected by the SIAL Innovation Observatory in 2018.
The return to favour of bean coffee, considered by consumers to be healthier and less processed than instant and ground coffee, is also becoming a new trend in the hot drink segment. This comeback is a response to customer demand for products that are reassuring because they are natural. According to the volume transfer survey CAM P10 2019 vs LY, 36% of the volume growth of bean coffee is additional business for the hot drinks category. While only 7.3% of French households consume bean coffee in 2019, the sector is growing fast.
The advent of cosmetic drinks
With 40% growth forecasted between now and 2023 (higher than for coffee), the worldwide tea and herbal tea market offers high potential.
However, the European tea market is saturated. According to an FAO report on the current market situation and medium term outlook for tea, "over the next 10 years, Western countries should see their consumption declining."
But producers and exhibitors have another trick up their sleeve, promoting these drinks' benefits for health and well-being. Ranges should therefore expand to offer so-called cosmetic black and green teas.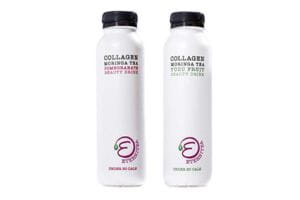 Eternitea, a low-color tea that contains collagen, moringa and aloe vera. Three key elements of cosmetics.
To fulfil this new consumer demand, collagen-based drinks have made their entrance, whittling down the boundaries between cosmetics and food. Whilst these drinks are mainly available in Japan, they are beginning to arrive on the European market. At the last Paris edition of the SIAL Innovation Observatory, two products represented this innovation:
"Coffee capsules with collagen" by Rene Coffee Pads Magmar, promoting better skin plasticity and slowing down the natural ageing of the body,
"Eternitea Beauty Drink yuzu fruit & pomegranate" by the brand Eternitea, a low-calorie tea which contains three headline ingredients used in cosmetics: collagen, moringa and aloe vera.
Another innovation spotted by the 2019 Global Innovation Report by Protéines XTC is the emergence of products containing cannabidiol, one of the chemical components of cannabis. This new trend is, for the time being, being launched on North American and European markets (depending on local legislation of each country). For example, in October 2019, Canada authorised the recreational use of cannabis. This authorisation was extended to food products, allowing companies such as AB InBev and Tilray to launch cannabidiol derivatives on the market at the end of 2019 in the form of tea or sparkling drinks.
Finally, another noteworthy event is the arrival of green and black teas based on hemp, a plant that consumers identify with the notions of nature and ethics. The promise of these products lies in the soothing and digestive properties of hemp flowers.