New trends (street food, exotic food, vegan, etc.), new headliner products (poke bowls, wraps and salads) and new consumer demands (natural trends and the environment) are boosting innovation on this market to such a point that the food-to-go and ready meals segment is the third most innovative in the world in the food sector. According to the 2019 Global Innovation Report by Protéines XTC, this branch saw 6.8% of all the food innovations in 2018. In Europe, it occupies the top spot for innovation, with 7.2% of new products on the food market.
Snack innovations, the growth driver
Snacks remain one of the main areas of innovation in the prepared food department. In France, they are the segment that contributes the most to the growth of the category, at 21.2%, ahead of ready meals (15.6%), pasta and sauces (11.7%) and classic salads (11.3%), according to a 2019 Iri study.
Street food is a major innovation trend in this market. It responds both to a strong consumer demand to be able to eat good and inexpensive products out and about, and to a desire to be able to do so on the go. These two conditions are perfectly fulfilled by the street food offering, which is an affordable, out-of-home form of cuisine.
In this niche, exotic flavours are particularly appealing. Proof of this is the Moroccan-style veal meatballs, served with couscous and small vegetables, sold by the French company Mix in a box with fork and napkin.
Tonijn uses the same logic. This Dutch company markets a dish of marinated fish, rice, fresh vegetables and sauce inspired by the Poke Bowl, a dish of Hawaiian origin that is very popular nowadays. Meanwhile, Carte Nature is also playing on the "bowl" trend with its new "Bols Nomades" range: vegan recipes rich in vegetable fibre and proteins inspired by world cuisine.
The growth of soups and salads
Soups are also on the rise, especially in France where an average of 13 litres per person per year is consumed. This is a windfall that manufacturers have been quick to latch onto, including those who are already leaders in this sector in mass retail and who continue to innovate.
Knorr has also launched a soup "just like home" presented in a glass bottle to play both on the "home" side, which brings to mind an image of less-processed products, and on the glass packaging, which is more eco-friendly than plastic.
Soup is even becoming an alternative to sandwiches and other meals eaten on the go, with new products designed for mobility. For example, the French company Hari&Co has launched a new organic legume soup in a nomadic bottle.
Salads have also gained ground by achieving the feat of conquering a much wider audience than just women. The winning formula is simply to offer salads that are tastier but still healthy. Pierre Martinet thus offers a Perles de Blé salad with shallots, combining beluga lentils, tomatoes, soybeans, chickpeas, corn and spiced up with shallots for a wholesome, tasty dish.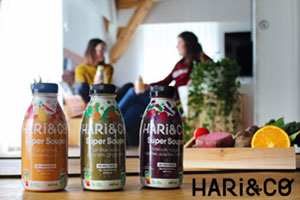 Healthier ready meals
The mainstay of the prepared food department is still ready meals, which alone account for €228 billion in global sales. Moreover, this sector is growing and is expected to continue to expand by 4.3% a year between now and 2023, according to Statista.
It is continuing to grow because this market has been able to adapt quickly to new consumer demands thanks to innovation. One of the major issues in recent years has been the search for healthy products without neglecting taste.
In the sauces section, for example, the Spaniard Chovi has revived the forgotten black garlic with its Mortier black garlic sauce, winner of the 'Delicatessen' award in the 2018 SIAL Paris Innovation competition.
Professionals have thus launched new, healthier and more natural dishes, such as soups and salads, whose healthy aspect appeals to consumers. The vegan trend is particularly strong in this market which had for a long time been dominated by meat products. The major brands known for their meat-based ready meals are starting to introduce vegetable ranges into their offer. This is the case, for example, of William Saurin, with its 100% plant-based, protein-rich ready meals, sold in tinned form.