Take up the challenge by measuring yourself to renowned international chefs
Every day, renowned chefs were on hand for culinary demonstrations
The 2022 programme:
Saturday, October 15th:
11:00 - 12:00: Frédéric Jaunault

Grilled mango with porcini mushrooms in two ways

1.30pm - 2.30pm: Rachid Souid
2.30pm - 3.30pm: Mehdi Kebboul

Crispy large shrimps, coconut tamarind, green mango papaya

3.30pm - 4.30pm: Dina Nikolaou

Octopus cooked with wine and honey
Sunday, October 16th:
11:00 - 12:00: Lucas Felzine

Organic salmon confit with sakura and maizo, teriyaki and marinated vegetables

12:00 - 1pm: Pierre-Thomas Clément

Bamboo risotto, chard cream, nettles and oyster espuma

1pm - 2pm: Dina Nikolaou

Kritharoto (barley pasta) with shrimps
Monday, October 17th:
11:00 - 12:00: Béatrice Fabignon

Giraumon, cod and king crab chiquetaille, creamy christophine, okra chips

1.30pm - 2.30pm: Eric Ticana

Salmon, shrimps and avocado sushi

2.30pm - 3.30pm: Fabien Borgel

Wrapped celery stuffed with dulce pumpkin sunflower seaweed, hazelnut milk emulsion, smoked pepper

3.30pm - 4.30pm: Gary Willimont
Tuesday, October 18th:
11:00 - 12:00: Mehdi Abdelhakim

Duckling stuffed with dried fig, quince cylinders with a Maghrebian flavour

1.30pm - 2.30pm: Stéphane Pitré

Eggplant curry with tuna and harissa sauce from Stéphane Pitré's grocery shop

2.30pm - 3.30pm: Maela Bertemont

Shrimp bisque with green lentils from the Ile d'Oléron in two oils and crispy shrimps in coconut satay

3.30pm - 4.30pm: Philippe Geneletti

Quick cooked salmon flambéed with thyme, truffle pearls and roudou
Wednesday, October 19th:
11:00 - 12:00: Ruben Sarfati

Salsify confit with lavender, warm carpaccio of scallops, hazelnut butter foam

1.30pm - 2.30pm: Jean-Christian Dumonet
2.30pm - 3.30pm: Philippe Geneletti

Quick cooked salmon flambéed with thyme, truffle pearls and roudou
Mehdi Abdelhakim
Mehdi Abdelhakim obtained his scientific baccalauréat in 2003. This young musician and percussionist has been passionate about music since childhood. It only took a show on French TV's M6 channel - "Oui chef" with chef Cyril Lignac – for him fall in love with French gastronomy and start his adventure.
In 2004, he became a qualified catering technician and obtained a BTS (national professional qualification) in hotel and catering, specialising in cookery, in 2007. His apprenticeship began in his hometown of Oran where he grew up working in gourmet restaurants such as the 5-star ROYALE and Sheraton hotels.
In 2008, he joined one of the residences of the French Embassy in Oran. During this period, he catered to several high-class guests, gained experience in French cuisine, and worked with several Consuls General as Executive Chef at the French consulate. He also did an internship at the Ministry of Foreign Affairs in Paris.
In 2011, Mehdi Abdelhakim met the Michelin-starred chef from Marseille Michel Portos, who was impressed by the young chef and offered him the opportunity to hone his skills at the St James restaurant in Bouliac on the outskirts of Bordeaux. On his return to the French consulate, he became the best young chef of all the French consulates in Algeria. On leaving his post at the French consulate he became head chef at the Cosmopolite restaurant in Algiers.
He then returned to France to open a gourmet restaurant, Bouche à Oreilles, in Saintes, a small town near La Rochelle, his first experience of opening a restaurant in France. He took part in the twinning of Bordeaux with Oran, led by the former mayor of Bordeaux Alain Juppé, but also in several workshops including the SIAL in Paris.
The chef then decided to move to the city of Bordeaux. Recently, Mehdi Abdelhakim joined the Toques Françaises under the leadership of President Marie Sauce.
A luxury foie gras producer and organiser of dinners for high-profile personalities, the young creator's career now takes him to events in France and abroad, with culinary workshops and masterclasses in Bordeaux to share his love of gastronomy, but also into the field of culinary consultancy in Bordeaux. Many other promising projects are in the pipeline.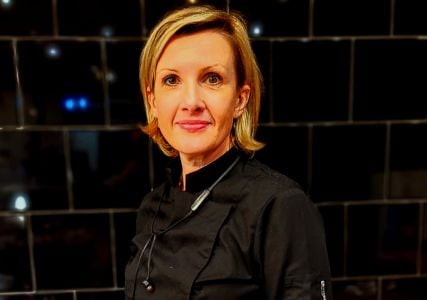 Maela Bertemont
Maela Bertemont may be new to the Marché Saint-Quentin in Paris, but she already plays a starring role there. Formerly a CFO, she quickly made her marks in the culinary world after switching careers, moving from finance to fine cuisine.
This radical but well thought-out decision changed her life trajectory. She soon collaborated with the talented Chef Lucas Felzine (Vesper) as well as Chef David Polin (Le Bon la Butte) as a restaurant manager. Covid-19 restrictions gave Maela an unexpected opportunity to devote her time to perfecting her culinary skills at L'Atelier des Chefs and transforming the restaurant into a shop featuring locally grown produce.
She was then able to pursue her passion project: opening her own location at the Saint-Quentin covered market blending the art of cured meats with her own restaurant featuring dine-in and takeaway options. Her reputation for catering to those with discerning palates aligns with her image as someone who listens to her customers and loves to bring smiles to their faces with her contemporary yet traditional cuisine that offers a new spin on emotions and flavours. Her commitment to living a better life led to her seasonal style of cooking that highlights the qualities of each product and their main producers and growers.
A smile always comes easily to this strong woman's face. Her cooking is a reflection of her personality, winning over even the most committed foodies.
Fabien Borgel - 42 degrés
Although Fabien has always loved gastronomy, he discovered cooking later in life through his associate. He honed his skills in several restaurants in Paris, Australia, Switzerland, and the United States, where he discovered raw food and vegan cuisine. In 2014 he opened 42 Degrés, the first vegan raw-food restaurant in Paris.

42 degrés - 109 Rue du Faubourg Poissonnière, 75009 Paris, France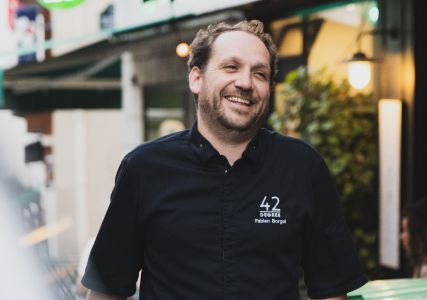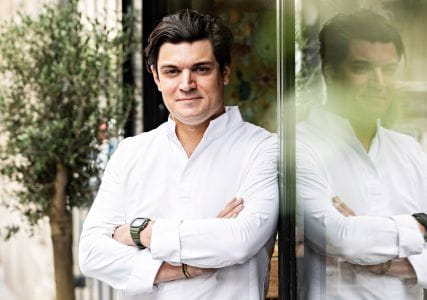 Pierre-Thomas Clément
Pierre-Thomas was trained by the chef Joël Robuchon before working alongside the Michelin-starred chef and Meilleur Ouvrier de France Frédéric Simonin.
He then decided to move away from Michelin-starred restaurants, working at Le Fitzgérald before joining Le Flonflon in the Ternes neighbourhood of Paris.
The Ternes neighbourhood is adding another feather to its cap with the opening of Chef Pierre-Thomas Clément's first restaurant featuring a bold, direct menu inspired by French gastronomy with just the right dose of whimsy.
Blending bistro-style cuisine with traditional French culinary know-how is what Flonflon, the first 'bistronomy' restaurant headed by Chef Pierre-Thomas Clément, does best. In the heart of the Ternes neighbourhood in Paris, this new restaurant exudes a vibrant, impeccably executed energy. There is no more faithful expression of the personality and career of the restaurant's chef, who was trained with some of the industry's greatest names, including Robuchon, Gagnaire, and Ducasse.
Flonflon's menu is built on a foundation of classic French gastronomy, while also flirting with more contemporary techniques. The bistronomy-style dishes vary according to the chef's whims and the morning's delivery from local farmers. Customers may enjoy anything from a creamy fava-bean soup flavoured by summer savory, to a beef tataki with lemongrass broth or a velvety-smooth linguine dish with prawns in a coconut and green curry sauce. Here, different influences collide and merge, but always with one strict requirement – everything is seasonal and made in-house.
The décor reflects the same vibrant, whimsical mood. Think Art Deco with contemporary detailing: luxurious wallpaper from Jean-Paul Gaultier, exposed brick, raw wood, shimmering reflections and sunny orange accents create a lively, dreamy vibe.
It's the perfect place for enjoying a laid-back break between two business meetings, or a delicious evening meal for even the latest of night owls!
Jean-Christian Dumonet - Joséphine
Born into a family of restaurant owners, Jean-Christian began learning the ropes from Eric Tabarly and Olivier de Kersauson before taking over the reins of Joséphine – Chez Dumonet in the 6th arrondissement of Paris.
Assisted by his son Adrien, he focuses on traditional French dishes.
He has also received the title of Maître Cuisinier de France.

Joséphine-Chez Dumonet – 117 Rue du Cherche Midi, 75006 Paris, France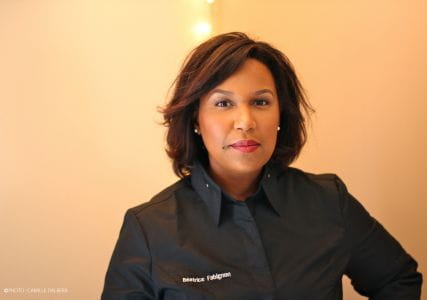 Béatrice Fabignon
Béatrice Fabignon specialises in Creole gastronomy in France and abroad.
She grew up in the Ile-de-France region of France, while keeping up Creole traditions, in a large family that often got together to share dishes that everyone would bring along, or to cook together. This is where Béatrice's passion for the flavours and colours of overseas cuisine was born, but also for the values she seeks to pass on today: sharing, generosity and terroir.
Curious, always on the lookout for new flavours and very creative, she dreams up recipes that are inspired by the French overseas departments and territories. The aim is to promote the gastronomy and culture of the French Overseas Territories in France and abroad.
A true entrepreneur, she is a private and event chef, but also co-producer of cookery shows on TRACE TV. She is also the founder of the TROPHY TABLE ART, the first travelling competition for excellence in the table arts, service and gastronomy in the French overseas territories and the Caribbean.
She is also a resident of the DNIGCC association (Développement National et International des Gastronomies et des Cultures Créoles - National and International Development of Creole Gastronomies and Cultures).
Lucas Felzine - Vesper
Lucas began his career in 2008 at William Ledeuil before joining Alain Passard's team at the 3-Michelin-star restaurant L'Arpège. He continued to perfect his skills at Shangri-la, La Dame de Pic with Anne-Sophie Pic, and then with the Mavrommatis brothers before opening his own restaurant in 2014: UMA.
Its style can be situated somewhere between Japan and Peru and is built on a solid foundation of traditional French cuisine.
Uma is derived from the word umami, the fifth core flavour, which is a blend of acidic, sweet, savoury, and bitter notes. When these four flavours are well balanced, diners are left with a feeling of wanting more, discovering flavours that are new and yet feel familiar at the same time.
Uma means "horse" in Japanese, and "water" in Quechua, which is the most widely spoken dialect in Peru. Lucas likes to say that his cooking style is as fluid as water while also straddling both countries.
He strives to help his clients forget the outside world as soon as they set foot in his restaurant by offering them an unforgettable dining experience. Each dish has its own story and, for the chef, each dish is therefore unique not only through its flavours but also the person who prepares it.
Driven by a relentless ambition to evolve, Lucas closed his restaurant UMA and set off on a new adventure by accepting a position as Chef at the Fitzgerald restaurant in Paris.

Vesper – 81 Avenue Bosquet, 75007 Paris, France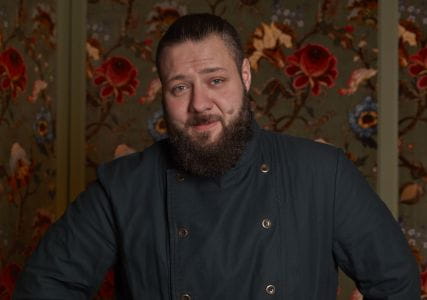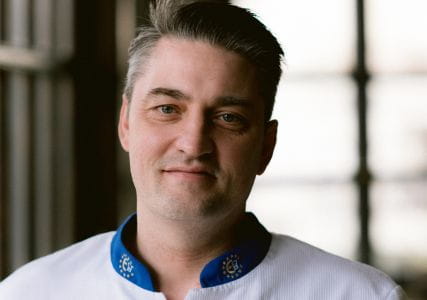 Philippe Geneletti
Gluttony, modernity and the desire to have fun are the signature of chef Philippe Geneletti.
Entered the kitchen at the age of 15 by way of apprenticeship, he has, among others, frequented the kitchens of Bernard Loiseau, Ferran Adria at El Bulli in Barcelona, Mandala Bay in Las Vegas, as many chefs and establishments that have shaped his culinary vocabulary.
He is the youngest Michelin-starred chef in 2009 and is now a Worldwide Chef Consultant and Executive Chef of Luxury Hotel Management.
Starred from 2009 to 2012.
Frédéric Jaunault
Frédéric became Meilleur Ouvrier de France (MOF) Primeur in 2011, he served as Chef internationally, particularly in the United States and Bermuda, but also in large French houses such as Ledoyen, the Plaza Athénée, Bernard Loiseau or Le Normandy to Deauville.
It is therefore with this experience as a chef that he decided to specialize in fruit and vegetables.
Between tradition and modernity, technicality and pleasure, it offers a sensory and creative journey through the seasons. Frédéric is also a specialist in plant sculpture and created the Academy of Fruits and Vegetables.
He very often works abroad and appears very regularly on French television channels but also elsewhere in the world.
He was raised to the rank of Knight of the National Order of Merit and Agricultural Merit.
European and French artistic champion on fruits and vegetables.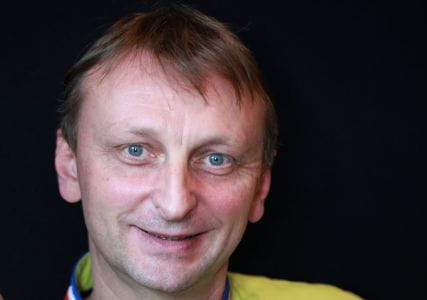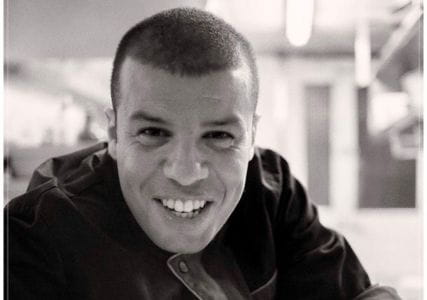 Mehdi Kebboul
Born in 1980 to a Tunisian mother and an Algerian father, Mehdi began a pre-apprenticeship at the age of 13 in a starred restaurant, the Château de Lignan, where he stayed for several years.
In 2001, he decided to move to Thailand, and in 2007 to Australia.
After this international experience, he joined the team at l'Epicure, Hotel Le Bristol's restaurant, in Paris.
In 2012, he took part in season 3 of Top Chef.
Then, in 2017, he decided to open his first restaurant in Paris: Le Savarin.
Today, Mehdi is looking for new challenges and is planning new adventures.
Dina Nikolaou - Evi Evane
Dina Nikolaou chose Paris for her studies in economics and marketing, which she later abandoned in favour of her great passion: cooking and gastronomy. She eagerly began her professional training in culinary arts at the French gastronomic schools in Paris Le Cordon Bleu, Ritz Escoffier, Alain Ducasse formation, Lenôtre.
Full of ideas, she founded Evi Evane with her sister Maria, where she is a passionate and ambitious advocate of Greek cuisine, as well as the two delicatessens, Evi Evane Catering & Evi Evane mezès. The Nikolaou sisters want to showcase real Greek cuisine, away from the tourist "clichés". You will find a 100% Greek menu cooked in the style of. Greece's different regions, as well as more than 150 Greek products, sourced from small producers that she chooses herself.
She continued her career in 2009 by hosting cooking shows on Greek and French television, featuring recipes and dishes from all over Greece.
Her books and television programmes are always eagerly awaited by the public, who appreciate her simplicity and kindness. Her aim is for those abroad to understand that Greek cuisine is not just about tzatzíki or souvlaki. She tries to bring a fresh and modern touch to all the Greek dishes she prepares. This is the message she conveys through her latest book published in 2017 by Hachette Publishing House, entitled Grèce - La cuisine authentique (Greece - Authentic Cooking).
It is a battle that she appears to be winning, as Evi Evane reached a high point in 2017 when Gilles Pudlowski's French gastronomy guide, Pudlo, named it best foreign cuisine restaurant in Paris.

Evi Evane - 10 Rue Guisarde, 75006 Paris, France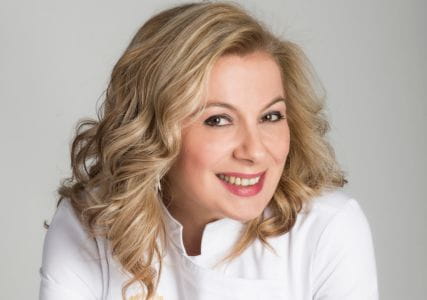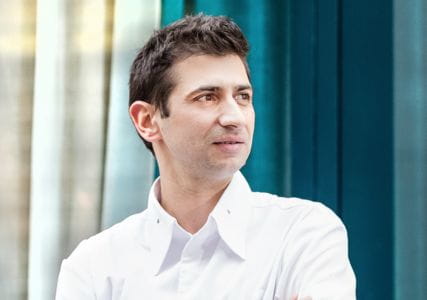 Stéphane Pitré - Louis
This young Breton passionate since the age of 12 years for the kitchen. Always the same story, a mother who knows how to cook and who takes the time to prepare meals for the family ...After an apprenticeship in the heart of the forest of Brocéliande and some seasons on the Atlantic coast, Stéphane decides to leave his lands for London, he is 22 years old.
L'Estaminet first, the bourgeois restaurant of Covent Garden then Martinique to "feel" a little exoticism, the Ritz under the orders of John Williams where he climbs the ladder of the hierarchy of the hard trade as junior under Chef!In 2005, Stéphane returned to his lands and took his first place in Paris at the "chez Cécile" restaurant where he received his first distinction, a gourmet bib with the Michelin guide!
In 2008, alongside Alain Senderens, Grand Chef of the Place de la Madeleine 2 stars Michelin guide it closes the loop. Under the direction of Jérôme Banctel he improves his skills in an inventive cuisine that respects the fundamentals.
Between 2011 and 2015, the anchor is placed brilliantly in the kitchens of the Metropolitan, the menu that it created reflects all its sensitivity and creativity that it blends with its roots: a colorful French cuisine. He works with clearness and accuracy, no more and no less, of great art.
In September 2014, Stéphane won the Gault & Millau prize for young talents, the "coup de pouce" that will help him open his first restaurant in Paris.

Louis - 23 Rue de la Victoire, 75009 Paris, France
Ruben Sarfati
Ruben was born in Paris and has a strong passion for cooking, quality products, and sharing them with others.
After more than 10 years of experience as a trainee, chef's assistant, home chef, and consultant, he became chef on a yacht on the coast of Sardinia. He organised many events including weddings in Paris, throughout France, and abroad.
In 2012, he was a contestant on Top Chef and also wrote two books.
He owned his own restaurant in Paris from 2014 to 2016. In 2017, he changed course and created a new business: Culinairement Votre ("Culinarily Yours"), a laboratory and catering company that grows its own fruits and vegetables.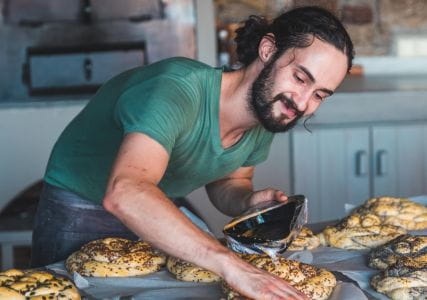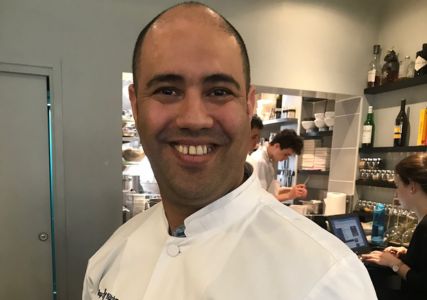 Rachid Souid
Rachid was born in Agadir, Morocco, where he spent the first twenty years of his life. He has taken the flavours of his childhood with him: his mother's Berber tajine made only from vegetables and cooked with hot air, hand-pressed argan oil made by his aunts, and the smell of mussels drying on rooftops. These experiences sparked his belief that cooking is intricately linked to emotions and in the importance of respecting ingredients. But also, of course, to hard work and determination. After attending university, Rachid Souid honed his culinary skills in Le Touquet. After working in hotels such as the Intercontinental, Le Méridien, Le Grand Hôtel Cabourg, and then Le Millau in Paris, Rachid began participating as an active member of associations including the Académie Nationale de la Cuisine, the Académie Culinaire de France, Eurotoques France, and Les Disciples d'Escoffier.
Eric Ticana - Goma
Eric Ticana, sushi chef since 2004, member of the prestigious "Les Toques Françaises" association since 2014 and the Euro-toques France association in 2016, applies his know-how to fostering taste and creativity. Constantly on the lookout for new flavours, he has developed recipes and techniques that he now seeks to share and pass on.
Among other achievements, his technical skills enabled him to come third in the Global Sushi Challenge France and to be the first chef selected to represent France at the Sushi World Cup in Tokyo in 2016. He flew the French flag again in 2017.
In 2018, he founded and coached the Sushi Team. It went on to win the title of World Vice-Champion.
Today, Eric Ticana is the chef at Goma Restaurant located in Val D'Europe, very close to Disneyland Paris. He is also Jury President at the French Championship. Keen to promote the art of Sushi, he continues to be a trainer in that skill and also gives cookery demonstrations.

Goma - 15 rue d'Ariane - 77700 Chessy, France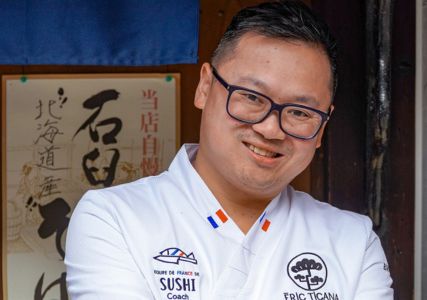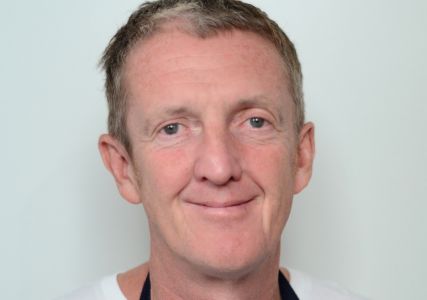 Gary Willimont - L'Entente
Gary Willimont, former chef at Châteaubriand. Owner, manager and chef at the Express Bar bistronomy-style restaurant and Salt, a Michelin-rated fine dining restaurant.
With more than 25 years of expertise in the heart of the Paris restaurant scene, he is now Chef de Brigade at the English brasserie L'Entente located at 13 rue de Monsigne in the second arrondissement of Paris.

L'Entente - 13 Rue Monsigny, 75002 Paris, France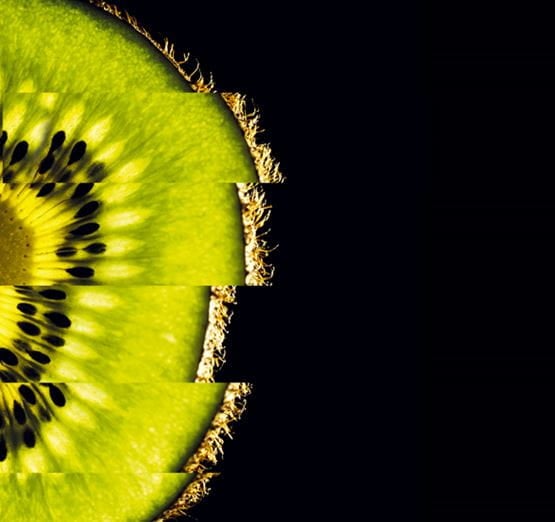 INSPIRING FOOD BUSINESS WORLDWIDE
SIAL Canada -
Montréal
SIAL Canada - Toronto
SIAL America - Las Vegas

SIAL Paris - Paris
SIAL in China - Shanghai
SIAL in China - Shenzhen
SIAL in India - New Delhi
SIAL Interfood - Jakarta
SIAL Middle East - Abu Dhabi
Djazagro - Alger
Gourmet Selection - Paris
Gourmet Discovery - Hambourg