La Cuisine is a hub of culinary talent where top chefs from all over the world share ideas. French gastronomy has shine in 2022 thanks to chef Mauro Colagreco.
The 2022 program
The SIAL Paris 2022 edition offered in its pop-up restaurant 4-hand menus specially designed by 10 renowned chefs for the show.
Each day, visitors and exhibitors have tasted a menu created by a new duo.
The program*:
Saturday, October 15th: Pierre Meneau (Auberge du Jeu de Paume*)
Sunday, October 16th: Irwin Durand (Le Chiberta*) / Mathieu Afonso (Hilton Opéra)
Monday, October 17th: Baptiste Renouard (Ochre*) / Pierre Lambert (L'Expérience)
Tuesday, October 18th: Rebecca Lockwood (Agapé*) / Julien Marseault (Partage)
Wednesday, October 19th: Arnaud Viel (La Renaissance*) / Romain Gicquel (La Ferme de Voisins)
Chefs who will cook for you
Pierre Meneau - Auberge du Jeu de Paume*
Immersed in the world of gastronomy from an early age, Pierre Meneau followed in his father's footsteps and opened his own restaurant in Paris in September 2012.
After studying hotel management in Switzerland, Pierre Meneau consolidated his father's legacy and deepened his culinary knowledge with Michel Guérard, a 3-star Michelin chef.
Today, Pierre Meneau offers a cuisine that harmoniously combines the various influences of his peers with his own sensibility. The result is a cuisine that is both classic and daring. Inspired by the great names of gastronomy such as Auguste Escoffier, Antonin Carême and Edouard Nignon, the Chef enjoys revisiting dishes that have marked the history of French cuisine.
In his restaurant, the Crom'Exquis, Pierre Meneau creates a classic cuisine, sometimes daring but above all tasty, around a master product that sets the tone, the note of the dish. The quality of the products, rigorously selected directly from the producers, is sublimated by a technical gesture, a perfect cooking or a combination that reveals the flavour and tonicity of a dish.
Pierre Meneau composes his dishes like a master watchmaker sets a precision watch. The precision of the preparations and the accuracy of the flavours in the mouth have only one aim, to bring out the best in exceptional raw materials so that the guests can enjoy a unique taste experience. Among his signature dishes: Oxtail ravioli, Thai broth with lemongrass, roasted beef marrow or sweetbreads and arborio risotto with Parmiggiano Reggiano, meat juice with coffee and cigar smoke.
At the Crom'Exquis, Pierre Meneau also pays tribute to his father by reinterpreting the cromesquis, the small savoury bite that Marc Meneau immortalised with his recipe with foie gras, truffle and port. In his establishment, Pierre Meneau offers it in a multitude of sweet and savoury recipes.
Pierre is now in charge of the Auberge du Jeu de Paume, a very famous one-star restaurant that has seen many chefs pass through.
Table du Connétable - Auberge du Jeu de Paume - 4 Rue du Connétable, 60500 Chantilly, France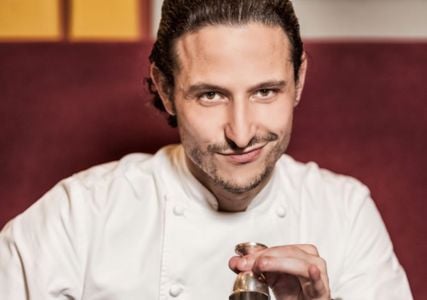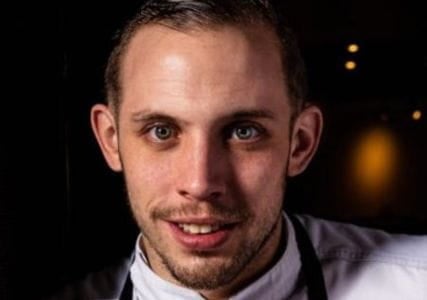 Irwin Durand – Le Chiberta*
Irwin Durand was born into a family that cooked well, ate well, and taught their children by taking them to restaurants. It was therefore only natural for him to get his professional qualifications in 2009.
He went on to work with some of the greats: at Joël Robuchon's workshop, the Relais Bernard Loiseau and he also trained in Wahid Sylvestre's brigades.
In 2017, Alan Geaam appointed him as chef at his 4th restaurant "Alan Geaam".
That same year, he won his first Michelin Guide star and became a Jeune Talent Gault&Millau in 2017.
In 2018, he joined the Guy Savoy restaurant as second in command and fully embraced its ethos; he was reminded of the values that were instilled in him as child, such as the importance of terroirs or the belief that taste must always come first in a dish.
In late January 2020, the position of chef at Chiberta became vacant and Guy Savoy suggested he join the Michelin-starred restaurant, which he had created. He has started out very fast and very strong with a menu that already features many of his own creations.
Le Chiberta - 3 Rue Arsène Houssaye, 75008 Paris, France
Mathieu Afonso - Hilton Opéra
Mathieu began cooking at the age of 16 at the Ecu de France restaurant in Chennevières.
He later joined Le Comte de Gascogne, a Michelin star holder, with Chef Henry Charvet, where he learned to work with quality produce and deepened his culinary knowledge.
Next, he opened several high-end bistro and brasserie-style restaurants to further deepen his culinary expertise and a different, more interactive and laid-back way of working.
Mathieu then moved to Mon Paris, a restaurant in central Paris. His first role was as Assistant Chef, then as Chef. He brought out the best in every product while modernising the traditional style of the restaurant. He specialised in crafting surprising combinations of flavours, fusing cuisine styles and different types of meat and seafood.
Restaurant de l'Hôtel Hilton Opéra – 108 Rue de Saint Lazare, 75009 Paris, France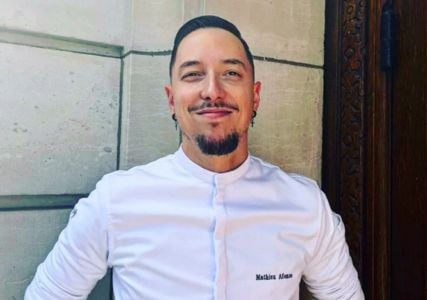 Baptiste Renouard - Ochre*
Baptiste Renouard has been working for 13 years with some of the greatest Parisian names such as Lasserre, Joël Robuchon, Le Laurent and Frédéric Simonin. He has always been driven by his curiosity, desire and passion for gastronomy.
Originally from Brittany, Baptiste's cuisine is plant-based and clearly influenced by his roots on Morbihan's Atlantic coast.
A candidate on Top Chef 2019, he opened his fine-dining restaurant, Ochre, in Rueil-Malmaison at the same time as the series was being filmed. He delivers a cuisine with traditional fundamentals, boldly updated with a modern vegetal twist.
The chef's message is clear. Behind each dish, there must be a story, a nod to a past experience, a memory, an encounter or an inspiring piece of music from a day spent travelling.
The day you sit at one of Ochre's tables will become a new memory in itself, thanks to captivating dishes with intriguing names such as "Station aux morilles" (Morel station), "Hommage à Soulage" (a tribute to Soulage), "Un air de côte sauvage" (a tune from the wild coast) or "50 nuances de vert" (50 shades of green).
Baptiste earned his first Michelin star in 2021.
Ochre - 56 Rue du Gué, 92500 Rueil-Malmaison, France
Pierre Lambert - L'Expérience
Pierre Lambert is a self-taught and highly experienced chef.
After having earned his stripes in several fine Parisian establishments, including Pasco, Pierre Lambert expressed his culinary personality at the helm of Carte Blanche, in the 9th arrondissement of Paris.
The chef decided to set off on a new adventure in 2012 and opened his first restaurant, L'Audacieux in Levallois-Perret. Noticed by the Michelin guide, he obtained his 1st 'Bib Gourmand' in 2014, which was then renewed in the following editions. The prestigious guide also awarded him an 'Assiette' in 2016.
In the same year, he took over the establishment belonging to his first chef in Courbevoie, Robert Daubian, owner of the Van Gogh in Asnières.
He then opened the Pierre Lambert restaurant in Courbevoie, which became "Expérience Pierre Lambert". L'Expérience is a logical and natural continuation of the eponymous bistro run by Chef Pierre Lambert.
After selling L'Audacieux, chef Pierre Lambert opened L'Audass' in Asnières in 2020.
In 2021, he took over the presidency of the ICTB, International Club des Toques Blanches, which promotes the handing down, sharing and respect of culinary tradition.
His cuisine is creative, 'outside the box' and consists of a single menu with several courses.
L'Expérience - 215 Boulevard Saint-Denis, 92400 Courbevoie, France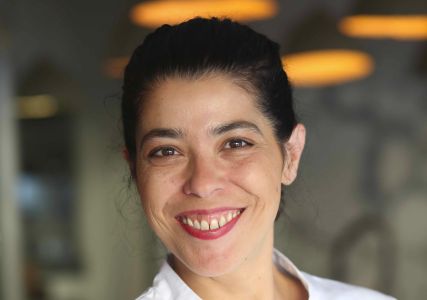 Rebecca Lockwood - Agapé*
Although Rebecca Lockwood followed a conventional training path to perfect her technique, it is the people she encountered who led her to vary her cuisine and to express herself fully. After attending the Senac professional cookery school in Rio de Janeiro, Brazil, she pursued her training at the Le Cordon Bleu cookery School in Paris in 2002. She also gained a master's degree in journalism, and combined both her passions in her work.
She ran her own restaurant in Rio de Janeiro before working in various European establishments, mainly in Portugal. With an international career, she worked as Madonna's personal chef, took part in the first edition of Top Chef Brazil in 2019 and worked in several French fine dining institutions.
In parallel, Rebecca Lockwood wrote articles on the history of art and gastronomy and regularly contributed to culinary publications.
In March 2022, the Brazilian chef took over the kitchen at L'Agapé in Paris. There, she intends to deliver a gourmet cuisine that favours zero waste, short supply chains and seasonality.
Agapé - 51 Rue Jouffroy d'Abbans, 75017 Paris, France
Julien Marseault - Partage
After qualifying, Julien trained with Michelin-starred chefs. He began his apprenticeship at L'Agape, a 1-star restaurant in Brittany, then joined Guy Savoy's brigade (3 stars). In 2004, he left for Corsica and the Grand Hotel Cala Rossa, also a starred restaurant. After a short stop at the Beau Rivage Palace in Lausanne, he returned to Corsica as chef at Le Troubadour restaurant where the Michelin guide awarded him the title of Jeune Espoir Une étoile (promising one star)... And he received the famous star in March 2011, when he was chef at the U Santa Marina in Porto Vecchio.
Julien also received the Jeune Talent Gault&Millau award in 2014.
Wishing to return to his native Brittany, he took over the Château de Sable in 2013 and was awarded a star in 2016.
This lover of produce creates his own cuisine with a mix of Breton and Mediterranean influences.
Since mid-2019, Julien has set out on a new adventure as Chef of Crillon Le Brave in the south of France, near Carpentras.
And, at the end of 2019, he opened a new restaurant at the Hotel des Voyageurs near Brest in Britanny: Partage.
Partage - 16 Rue Saint-Yves, 29290 Saint-Renan, France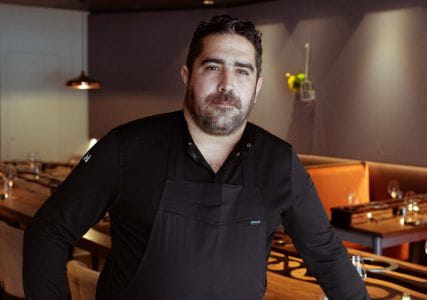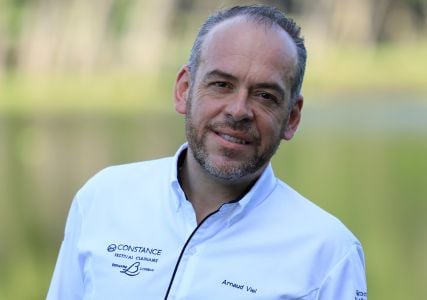 Arnaud Viel - La Renaissance*
Originally from Normandy, Arnaud already knew at the age of 8 that he would become a butcher or a cook. He obtained his cookery qualifications alongside Chef Jacques Angot and also obtained a CAP (vocational qualification) in pastry, chocolate, and confectionery.
He started out in Paris as a commis and then as demi-chef de partie with Pierre Miécaze at the CNIT Sofitel at La Défense.
After national service in 1992, he opened L'Auberge de l'Ancienne Abbaye with his mother, where he worked as chef for 6 and a half years.
In October 1998, he and his wife acquired La Renaissance, an iconic establishment in the town of Argentan. After several extensions and improvements to the premises, they obtained a Michelin star in 2016.
In November 1998, Arnaud closed L'Auberge de l'Abbaye and transformed it into a bistro, creating the menus there. HIs mother sold the bistro in September 2002.
But the Chef did not stop there, buying a pizzeria in Argentan in October 2014. January 2015 saw the opening of the chef's bistro, Le Comptoir de Maria, an important establishment for Arnaud since his mother had created the town's first Pizzeria on the premises in 1984. He lived and started working there during his childhood, from the age of 13.
Arnaud also published a book in 2011: Ma Cuisine des Légumes, then a second, in 2019, for the 20th anniversary of La Renaissance.
La Renaissance - 20 avenue de la 2ème-Division-Blindée, 61200 Argentan, France
Romain Gicquel - La ferme de Voisins
Romain Gicquel has been cooking since the age of 15, preparing family meals since childhood.
His first apprenticeship led him to the very heart of Versailles, on the marketplace, where he was quickly entrusted with the purchase of fresh produce. The quality and choice of ingredients were key to producing optimal French cuisine.
As a young apprentice, he continued his training at Cartier Management Club as a chef de partie for 4 years. The head of the Cartier Management Club, Jérôme Gueguen, offered him a position as saucier at La Durée until the opening of Le Retiro, a new site for all the restaurants in the group.
Subsequently, Romain Gicquel decided to join an establishment on a human scale with a gastronomic reputation: La Ferme de Voisins. First as a chef de partie, then as chef 6 months later. Curious and ambitious from an early age, he seized the opportunity of working at Le Domaine du Verbois.
His former chef and boss at La Ferme de Voisins naturally contacted him to take over his establishment, where he in turn became chef and boss at the age of 24.
La Ferme de Voisins - 4 rue de Port Royal, 78960 Voisins-le-Bretonneux, France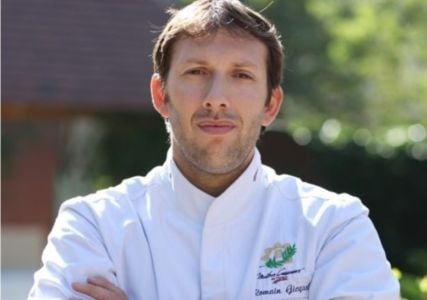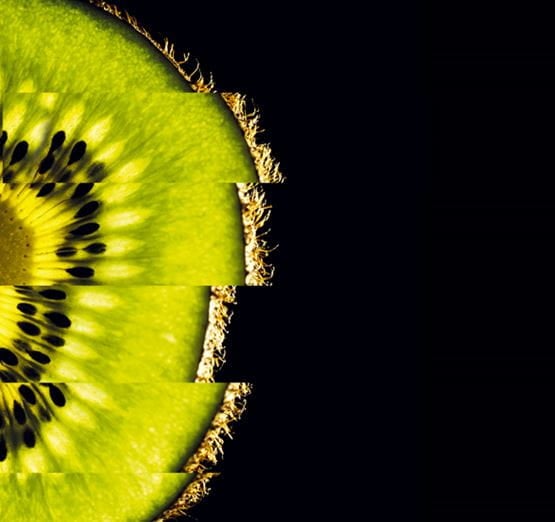 INSPIRING FOOD BUSINESS WORLDWIDE
SIAL Canada -
Montréal
SIAL Canada - Toronto
SIAL America - Las Vegas

SIAL Paris - Paris
SIAL in China - Shanghai
SIAL in China - Shenzhen
SIAL in India - New Delhi
SIAL Interfood - Jakarta
SIAL Middle East - Abu Dhabi
Djazagro - Alger
Gourmet Selection - Paris
Gourmet Discovery - Hambourg